As we known, PUBG Mobile is the most popular battle royale title developed by the Krafton with Tencent. Similarly, few days back Krafton announced a new title called PUBG New State which is the sequel to the PUBG Mobile.
Also Check : PUBG Mobile 1.2 Update global version Download APK file.
In recent days the audience for Battle Royale title especially in mobiles has enormous. In that PUBG mobile and Free Fire leading the charge in turns of popularity.
Also Check : PUBG Mobile Korean (KR) 1.2 Update APK and OBB Download links.
The PUBG New State design featuring 2051. Along with the announcement the developers released a trailer and a link for pre-registration.
The new title will supports on the devices having a 2.5GB RAM with Android version 6.0 and above. They can receive some exclusive permanent vehicle skins for pre-ordering the game.
Whereas, the iOS users have to wait some more time for pre-registration. The developers will provide a separate link for the users in very soon.
PUBG New State Pre-registration step-by-step guide
However, the pre-registration process excluded in some countries like India, China, and Vietnam. Other region people can follow the below steps to complete their pre-registration process for PUBG New State.
1. Open app store and search for PUBG New State. Otherwise click on the below link it redirect to the registration page.
PUBG New State Pre-registration: Click here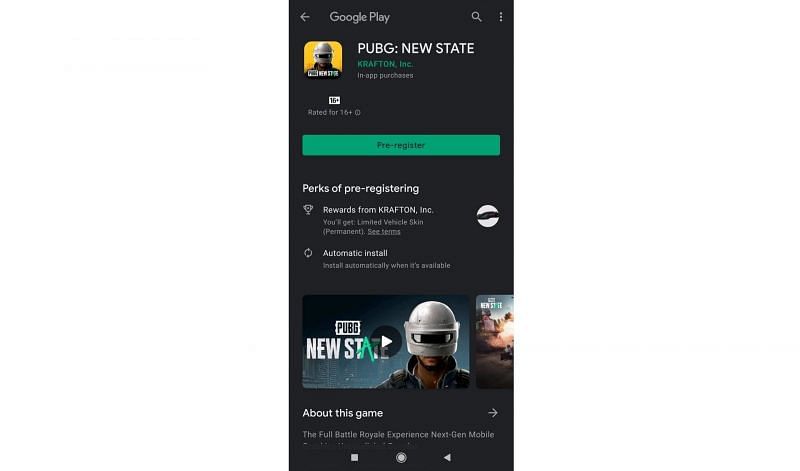 Press on the pre-registration button.
2. Click on 'Pre-register' button.
3. A dialog-box will appear it states confirm pre-registration. Here two options is available, if you want to install the game automatically once it released then select it or simple click on 'OK' to notify you.